I've been asked, as I'm Swedish, to share an authentic recipe of Swedish meatballs. 🇸🇪🥘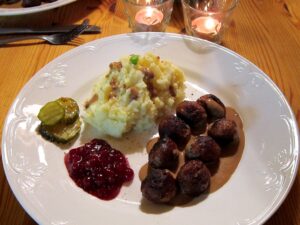 Swedish meatballs
4-5 servings
approx. 400 g (2 lbs) mixed minced meat (50% pork and 50% beef)
4 tbsp unsweetened breadcrumbs or 75 ml oatmeal
1 tbsp potato or corn starch
150 ml milk (or water)
1 egg
1½ tsp salt
½ tsp white pepper (+ all spice for Christmas)
approx. 1-2 tbsp raw grated yellow onion or approx. 3 tbsp very finely chopped yellow onion

2-3 tablespoons of butter/margarine for frying

Let breadcrumbs or oatmeal and potato starch swell in the liquid for about 10 minutes.
Stir in eggs, salt, pepper and onion.
Add the minced meat and mix with a fork.
Form even 1″ balls of the minced meat.
Brown the fat in the pan and add a few meatballs at a time.
Shake the pan so they are browned all around.

Serve with cream gravy, cooked potatoes or mashed potatoes, lingonberry jam and pickled cucumber.

Use just beef and 50 ml cream + 100 ml milk if one don't eat pork.
Use only pork and 150 ml milk if one don't eat beef.
Use soy mince and 150 ml cream, no milk, if one don't eat meat.

Cream gravy:
After frying the meatballs I pour flour and the water from the potatoes in the pan, whip to get all the goodies from the frying, add cream, dark soy sauce for colour, salt and white pepper, a tbsp of lingonberry jam, white pepper. Let simmer smooth.