The other day the snow was flying around outside and it was windy. I baked "semlor" – Swedish cardamon rolls with whipped cream and homemade almond paste (almost lika marzipan). Yummie!

In January and February we eat a lot of "semlor" here in Sweden.
We have a day in February called "Fettisdagen" = fat tuesday, on which they sell about 6 millions semlor, we are 10 million pople in Sweden.
https://en.wikipedia.org/wiki/Fettisdagen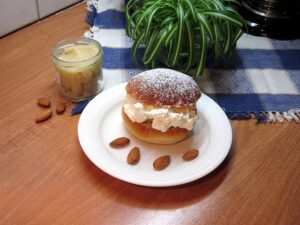 Swedish semlor 10 pcs
75 g (grams) butter or shortening at room temperature, cut into small cubes
7 g dry yeast
600-700 ml all purpose flour
½ tsp baking powder
50 ml sugar
½ tsp salt
250 ml milk
1-2 tsp coarsly ground cardamon
Heat the milk to 45°C = 110°F.
Put everything (600 ml flour, save 100 ml for later) in your stand mixer and beat it with the dough hook to a smooth dough.
If it's to sticky add the rest of the flour.
Beat the dough for 10 minutes.
Cover with a tea towel and let it rise for 30 minutes.
Divide and roll the dough into 10 rolls and put them on a baking sheet.
Cover with a tea towel and let it rise for another 30 minutes.
While rising preheat the oven to 225°C = 435°F.
Bake them in the middle of the oven til they are golden brown.
Let them cool and cut them in two halves and serve with whipped double cream and almond paste.
I hope you will like them. 🥰