I was craving macaroni pudding! The small one with bacon and the big one with soy mince. So good!
🇸🇪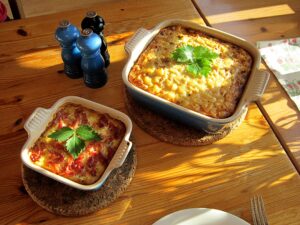 Macaroni pudding 4 servings
500 ml macaronies, uncooked
1 small onion, finely chopped
1 tbsp parsley, chopped
100 ml cheese, grated
3 eggs
250 ml milk
100 ml heavy cream
Salt
White pepper
Black papper
Paprika powder
150 g bacon,diced or 250 g soy mince/minced meat
Preheat the oven to 200°C.
Cook the macaronies al dente.
If you are using minced meat, sear the meat in a frying pan.
I've used my Le Creuset Heritage 20×20 cms square dish.
Put the onion, parsley and cheese in the dish.
Whisk the eggs, milk, cream and seasoning together in a mixing bowl.
Drain the macaronies and put them in the dish, mix the content together.
If you are using mince, mix it with the macaronies and then pour the liquids into the dish.
If you are using bacon, pour the liquids into the dish first, then sprinkle the bacon on top.
You can use both mince and bacon if you want to, or none.
Bake in the lower part of the oven for about 40 minutes.
Check if you have to cover the dish with aluminum foil.
The pudding is ready when the custard has set.
Enjoy!